Welcome to Kitchener-Waterloo!
The twin cities of Kitchener-Waterloo are located approximately 100 kilometres south-west of Toronto and 170 kilometres (100 miles) north-west of Buffalo. KW is recognized as one of Canada's top technology centres, home to BlackBerry HQ and also satellite locations for major tech companies such as Google and Electronic Arts. Both the University of Waterloo and Wilfrid Laurier University are located in "UpTown" Waterloo, but most of THATCamp IMMERSe, with the exception of the July 12 workshops, is being held in downtown Kitchener, Waterloo's urban counterpart.
Each day of THATCamp IMMERSe will be held in a different KW location. This arrangement gives campers a chance to see more of what both cities have to offer, and to partake in fun gaming and social events sponsored by The Games Institute, THEMUSEUM, and Kitchener City Hall. Both UpTown Waterloo and downtown Kitchener boast several awesome cafés with free wireless Internet, and a wide range of restaurants, pubs and bars. Most of our THATCamp activities will be held in downtown Kitchener, within an easy walking distance of both recommended hotels and the main transit hubs. Events on Friday July 12th will be held in UpTown Waterloo, approximately 10 minutes up the road by car or bus. Local transit buses run quite frequently up and down King Street, the central thoroughfare connecting both cities.
Where to Stay
Our two recommended hotels — both in downtown Kitchener — are within a short walking distance or drive/bus ride from all THATCamp IMMERSe activities: the Kitchener-Waterloo Hotel and Conference Centre (formerly the Delta) at 105 King Street East, and the historic Walper Hotel at 20 Queen Street South.
UPDATE: The above hotels are fully booked for the weekend of July 12-14. If you still require accommodations, here are some other options: 
1. Hotel Laurier – on WLU campus so very convenient and inexpensive. Some locations offer single rooms, some are dorm style – 3 to 5 bedroom suites so there's a shared kitchen, bathroom and living room. Free wifi + onsite laundry and parking, gym, AC, etc. Prices range from $45 to $120 per night. The 3-5 bedroom dorm style option is great if a few people wanted to share them. www.laurierconferences.ca/summerRates.htm
2. The Waterloo Hotel – It's a nice boutique hotel within walking distance to CIGI, not suitable for people with mobility restrictions (there's no elevator and it's got a very steep stairway…) Price is between $495-540 for three nights. Any hotel search engine should find it. Address: 2 King Street North, N2J 2W6 Waterloo
3. Frederick Street Inn – nice boutique B&B, walking distance to THEMUSEUM, and buses to Uptown Waterloo. Only two rooms left for the dates at approx. $350-400 per three nights. Address: 230 Frederick Street Kitchener, Ontario N2H 2M8 PHONE: (519) 745-2060, www.frederickstreetinn.ca/contact.htm
4. Comfort Inn Waterloo – regular hotel – not too far from our facilities. On bus route to downtown Kitchener. Short walk to King street to catch a bus to Uptown Waterloo. Adjacent to the Angel's Family Restaurant. Price just over $400 for three nights. Any search engine will find it. Address: 190 Weber Street North, N2J 3H4 Waterloo.
5. Waterloo Inn Conference Hotel – this is a regular hotel and conference centre – prices start at just over $400 for 3 nights. Breakfast not included. Location will be quite inconvenient – it's on King St not far from the Conestoga mall. Approx. 15 min on a bus to get to Uptown Waterloo, 25 to get to Downtown Kitchener. Any online hotel booking site should be able to find this hotel. Address 475 King Street North, N2J 2Z5 Waterloo.
6. There are also summer accommodations on UW campus here uwaterloo.ca/conference-centre/about/accommodation $36-52 per night.
VIA Rail and Greyhound Bus
Kitchener is serviced by VIA Rail and Greyhound, which offer rail and bus service throughout Canada. There are several daily trains to Kitchener from Toronto Union Station, as well as frequent Greyhound trips from the Toronto Coach Terminal and other locations in southern Ontario.
Air Travel
Pearson International Airport (YYZ) is Toronto's international hub, and offers direct flights to and from many U.S. and international destinations. The primary airline for Pearson is Air Canada.
Billy Bishop Toronto City Airport (YTZ) is a small airport located centrally on Toronto Island. YTZ is serviced mainly by domestic carrier Porter Airlines.
Buffalo Niagara Intenational Airport (BUF) also offers regular flights from several U.S. and international destinations. Flight costs into Buffalo from the U.S. may be less expensive depending on originating location and time of reservation.
We should probably inform you that there's a Region of Waterloo International Airport (YFK) as well, but it only offers direct flights to and from Ottawa, Calgary and Chicago, with limited options for connecting flights. It's still worth looking into, just in case.
PLEASE NOTE: If you are not a Canadian citizen, you will need a passport to enter the country, whether you arrive by air, land, or sea. A separate visa is not required for U.S. citizens.
Shuttle Service and Car Rental
The recommended mode of ground transportation from the Toronto airports is Airways Transit, which offers a very reliable and efficient shuttle service to and from both Pearson and Toronto Island Airports. Sharing shuttles is a great way to save money, but please make sure to book in advance, whether traveling individually or in a group.
There are also several rental car companies at Pearson for campers who may want to do some sight-seeing before or after THATCamp IMMERSe. The drive from Toronto to Kitchener is a direct line down Highway 401. Kitchener is within 1 hour from Toronto, 1.5 hours from Niagara Falls and the wineries of Niagara, and 40 minutes from Stratford, home of the world-renowned Stratford Shakespeare Festival.
There is no shuttle service available from Buffalo due to the border crossing. Travelers from Buffalo may want to opt for a car rental.
Where to Eat/Drink/Caffeinate
Kitchener
The Boathouse Restaurant and Music House, 57 Jubilee Dr, Victoria Park
Bobby O'Brien's, 125 King St W (pub)
Café Pyrus, 16 Charles St (vegetarian, coffee)
Kava Bean Commons, 24 Gaukel St
Niko Niko Roll & Sushi, 20 King St E
Imbibe Food/Drink, 10 King St W
Matter of Taste, 115 King St W (coffee)
McCabe's Irish Pub & Grill, 352 King St W
Yeti Café, 14 Erby St N
Waterloo
The Bauer Kitchen, 187 King St S (fine dining)
Death Valley's Little Brother Espresso and Whisky Bar, 84 King St N
Failte Irish Pub, 85 King St N
Huether Hotel, 59 King St N
Jane Bond, 005 Princess St (vegetarian, bar)
Nick & Nat's Uptown 21, 21 King St N (fine dining)
Solé, 83 Erb St W (fine dining)
Symposium Café, 4 King St N
Watami Sushi and Sake, 15 King St N
Getting around Town on the GRT
Grand River Transit offers transportation throughout the KW area. The city's main transit hub is the Charles Street Bus Terminal in downtown Kitchener. To travel between UpTown Waterloo and downtown Kitchener, you can hop on route 7 or the iXpress, which both run frequently up and down King Street. The closest bus stop to CIGI is located at King/Erb. Bus fare is $3.00, or discounted bus tickets can be purchased at a number of locations in town.
THATCamp Parking
CIGI – free parking in designated lot
Kitchener City Hall – paid underground parking (entrance off Young Street)
THEMUSEUM – free parking in Duke Street parking garage
Map of BSIA Facilities at CIGI Campus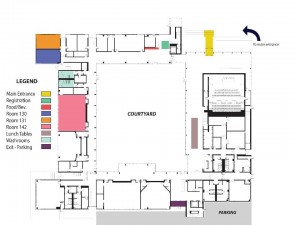 Taxis
Waterloo Taxi – (519) 888-7777
United Taxi – (519) 888‐9999